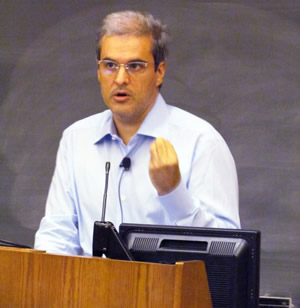 The Program on Governance and Local Development convened its second annual conference on April 9-10, 2015, at Yale University, entitled, "Service Provision in a Changing Arab World." The Program was founded in 2013 with generous support from the Moulay Hicham Foundation and Yale University.  It aims to promote innovative research on governance and development, focused on the Middle East. It brings together a diverse group of scholars, practitioners and development specialists to address challenges facing communities in the region.
The Second Annual Conference addressed the critical theme of service provision in a rapidly changing region. From revolutions to civil wars, to foreign military interventions, the region has experienced significant transition and transformation since 2011. Yet the dominant narrative in both media and scholarship has focused on national-level changes and policies, largely overlooking the changes taking place on the local level. Drawing together academics and practitioners from the Middle East and North Africa, Europe, and the U.S., the gathering sought to better understand the nature of problems at hand and consider steps toward solutions.
Prince Moulay Hicham Ben Abdallah of Morocco, Director of the Moulay Hicham Foundation, and Gilbert Doumit, Managing Partner of Beyond RDI Group and a former Yale World Fellow, began the conference by taking stock of the historical developments that have contributed to the challenges facing the Arab world today. Prince Moulay Hicham turned attention to the historical role of international actors that shaped weak states in the region. In his keynote speech, Doumit described how four years after the Arab uprisings of 2011, the Arab region remains in turmoil. "Most central governments have failed and lost legitimacy, and the ones that are still there are regimes at risk of failing anytime," he said, noting that these governance challenges call for "rethinking traditional models for service provision" and promoting innovative and sustainable projects that "activate the role of local governments in solving local service provision problems by using local resources." 
Subsequent sessions highlighted new research findings. The first session presented research by GLD projects, including case studies on health and education in Jordan and Palestine (implemented in collaboration with the World Bank), on local political engagement in Jordan, and on a new local governance performance indicator implemented in Tunisia.  The second panel, entitled, "General Challenges for Service Provision," featured presentations on a pilot study of healthcare provision by faith-based organizations in Lebanon, on the relationship between resource endowments and the demand for social service provision, and on variation in the quality of municipal waste management in Tunisia.  The third panel, entitled, "Service Provision in Conflict Zones, Refugee Populations and Local Service Delivery," presented studies on basic service delivery in Somaliland, on the challenges and opportunities for population-based preventive healthcare in Syria, and on the governance strategy of the Islamic State in Syria and Iraq.  The fourth panel, "Service Delivery in Transition States," included research on demand-side approaches to improved health services in Egypt, on the provision of education in post-conflict Lebanon, and on a case study of healthcare provision by the Muslim Brotherhood in Egypt. The fifth panel, "Service Provision in Refugee Populations," examined the provision of mental health services in the Syrian conflict, on the governance of housing, land, and property issues in South Lebanon, and on aid provision to Syrian refugees in Jordan and Lebanon.
A final roundtable discussing implications for policy and future research featured insights from Noha El-Mikawy, Representative of the Ford Foundation's Middle East and North Africa Office; Sebastien Vauzelle, Local Governance Officer of the United Nations Development Program ART Initiative; Curtis Rhodes, International Director of Questscope; and Jairo Acuña, Policy Advisor on Core Government Functions and Public Service Excellence for the United Nations Development Program. The panel, moderated by Ellen Lust, reflected on the conference proceedings and provided insights into next steps. Noha El-Mikawy suggested the need to partner more closely with local CSOs who, she contended, are under pressure in the wake of the Arab uprisings and yet remain on the forefront of information gathering and dissemination in the region. Sebastian Vauzelle concurred, stressing the need to establish a network of practitioners, civil society activists, local universities and other stakeholders that can allow a sustained information sharing, engagement and collaboration between actors over these critical issues. Jairo Acuña and Curtis Rhodes emphasized the importance of developing a more comprehensive picture of the issues at hand, potentially through the advancement of systematic indicators that can help illuminate both needs and progress.
Founding Program Director Ellen Lust delivered closing remarks, in which she identified three issues of interest for future research and inquiry: (1) how to understand accountability in the context of a fluid world in which non-state actors are gaining power relative to states; (2) how to develop both shorter- and longer-term solutions to problems of inequality and power imbalances; and (3) how to support local governance while also advancing the goal of state-building.