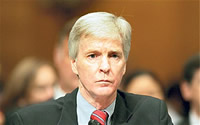 Ambassador Ryan Crocker, a statesman whose distinguished diplomatic career spanned four presidencies and who was awarded the Presidential Medal of Freedom for service to his country, has been named Yale's first Kissinger Senior Fellow at the Johnson Center for the Study of American Diplomacy.
Crocker is teaching courses for both undergraduate and graduate students during the 2012-2013 academic year.
The Johnson Center for the Study of American Diplomacy is a program of the Jackson Institute for Global Affairs in collaboration with International Security Studies and the Brady-Johnson Program in Grand Strategy. The center brings prominent statesmen and academics to campus as Kissinger Senior Fellows and Kissinger Visiting Scholars, and also hosts an annual conference and a variety of other events relating to international affairs. The Johnson Center was made possible by former Secretary of State Henry A. Kissinger's recent donation of his papers to Yale and a gift from Charles B. Johnson '54 and Nicholas F. Brady '52.
"I am so pleased that Ambassador Crocker is teaching at Yale," said Kissinger. "He has been a remarkable diplomat, and he has served the United States with great distinction in some of the most challenging assignments in the entire Foreign Service."
This fall Crocker taught a three-week module on Afghanistan in Yale's "Gateway to Global Affairs" undergraduate lecture course. He will teach two additional seminars for undergraduate and graduate students in the spring semester. He is currently on leave of absence from Texas A&M University, where he serves as the dean of the Bush School of Government and Public Service.
"I am extremely excited to be teaching at Yale, and I am honored to be a Kissinger Senior Fellow," said Crocker. "I really enjoy sharing my experiences and insights as a career diplomat with students."
Crocker recently retired as ambassador to Afghanistan–a post he was called out of retirement to assume. He previously served as ambassador to Iraq, Pakistan, Syria, Kuwait, and Lebanon, in addition to holding a number of other prominent positions in Washington and overseas. Crocker was assigned to the American Embassy in Beirut during the Israeli invasion of Lebanon in 1982 and the bombings of the embassy and the Marine barracks in 1983.
"Ambassador Crocker's life experience will be invaluable for our students," said Professor James Levinsohn, director of the Jackson Institute. "This is just one example of how the Johnson Center will dramatically expand our teaching of statecraft and diplomacy."