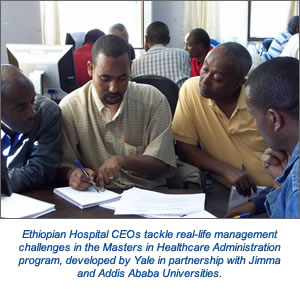 As part of the Leadership, Management and Governance Project funded by the United States Agency for International Development, Management Science for Health is launching a new partnership with the Yale Global Health Leadership Institute (GHLI). Management Science for Health (MSH) is a non-profit organization dedicated to advancing healthcare institutions in developing countries. 
This five-year project will support strengthening health systems in developing countries around the world. GHLI will collaborate with ministries across several sectors to help improve hospitals and strengthen leadership skills of medical providers, senior officials and their teams. Bangladesh, Malawi, Nepal, Rwanda, Guatemala, Ethiopia, Kenya, and Mali will be included in this project. Sections of the project will focus on the specific country's needs, while others will focus on overall health issues that exist in global settings beyond national boundaries. Project goals include developing models to improve local health leadership capacity and to incorporate tools for evaluating and monitoring health systems.
Yale will further train and award certifications to senior health officials. "Investment in leadership and management are critical in helping our own and other countries establish efficient and effective health care systems," says Elizabeth Bradley, faculty director of the GHLI. "This collaboration helps Yale expand on its goals to develop leadership to address health problems that transcend national borders." James A. Rice, the project director at Management Sciences for Health, further explains that Yale is a "highly valued partner with a strategic focus on senior level leadership, management and governance" and that together, GHLI and MSH "can have a high impact assisting ministries of health in improving their stewardship role for resources in the health sector and influencing policy."  
GHLI supports health leaders to improve the performance of health systems through leadership development, quality improvement programs, and health systems research.