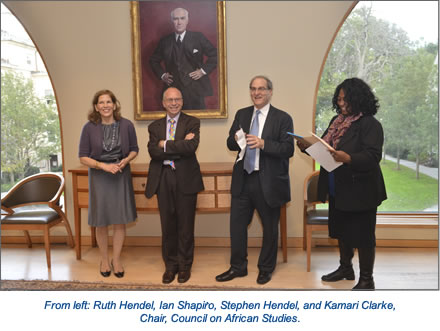 On October 20, the MacMillan Center hosted a reception in Henry R. Luce Hall to celebrate the $2.5 million gift from Stephen ('73) and Ruth Hendel to Yale in support of its efforts to understand and promote good governance and innovation in Africa.
Stephen Hendel is an extraordinary individual and a longtime friend of Yale since he graduated in 1973. He has reinvented himself countless times, from attorney to investment banker, to oil trader, to producer of the remarkable musical FELA!, which garnered massive critical acclaim culminating in eleven Tony nominations and three Tony awards. Devoted to the arts, Steve currently serves on the board of directors for New York Live Arts and on the board of Culture Project, a theatre company in New York City that aims to bring the national political conversation to life on stage. Additionally, he is treasurer of the board of the Eugene O'Neill Theatre Center in Waterford, Connecticut.
No less remarkable is Ruth Hendel, who is a theater producer who has been involved in a number of successful Broadway and Off-Broadway productions including FELA!, American Idiot, Red, A View from the Bridge, In the Heights, Legally Blonde, Caroline or Change, Metamorphoses, and most recently, the revival of The House of Blue Leaves starring Ben Stiller. She is vice chair of the board at the Eugene O'Neill Theatre Center.
"On behalf of the faculty and students in African Studies at the MacMillan Center, I offer my heartfelt thanks for your decision to create the Stephen and Ruth Hendel Fund for Innovation in Africa at Yale," said Ian Shapiro, Henry R. Luce Director, MacMillan Center. "These resources will enable us to contribute to the study and practice of good government across the continent. It means a great deal to us that the Hendels are our eager partners in building on Yale's intellectual and cultural relationships in Africa, and these funds will enable our students and faculty to become more deeply involved in efforts to build a better African future."